Don't get bamboozled on a day at the races - use our A-Z jargon buster to help you understand the lingo.
Presenting the letter A . . .
Acceptor
Horse remaining in a race after a key declaration stage.

Accumulator
A bet involving more than one horse with the winnings from each selection going on to the next horse. All selections must be successful to get a return. Accumulators must be placed with the same bookmaker.

Act (on the ground/on the track etc)
A phrase used to describe a horse's suitability for certain types of going, racecourses etc. If a horse is said to 'act on soft ground' it means that horse has shown previous ability to handle soft ground.

All out
Giving everything/notholding back. A horse that is said to be 'all out' to win means that it had nothing to spare in the finish.

Allowance
When a rider is inexperienced the horse is given a weight concession to compensate. Usually 3lb, 5lb or 7lb, increasing in line with the rider's inexperience.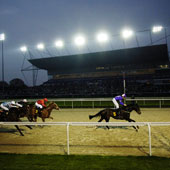 Kempton: an all-weather track
PICTURE:
Edward Whitaker (racingpost.com/photos)
All-weather
Artificial surface used for racing and training. There are four all-weather racetracks in Britain (Kempton, Lingfield, Southwell, Wolverhampton) and one in Ireland(Dundalk), that can stage race meetings even during harsh weather conditions such as frost and snow. There are two proprietary surfaces - Fibresand and Polytrack.

Also-ran
A losing horse ina race, especially one of the horses that finished outside the places.

Amateur
A non-professional jockey who does not receive a fee for riding in a race, denoted on the racecard by the prefix Mr, Mrs, Miss, Captain etc. Some races are restricted to amateurs-only.

Ante-post
Betting on an event well in advance of the day of the race. In the case of the Classics or big National Hunt races this could be a year or more before the race takes place. Ante-post betting is offered on about one per cent of the total number of races held in Britaineach year and is normally available until the overnight declaration stage for runners inthe race in question (usually the morning before the day of the race, or two days before in some cases - for example, the Grand National).

Apprentice
A trainee jockey apprenticed to a licensed trainer, usually by annual contract. An apprentice will generally ride only in Flat races. Apprentices usually have a weight allowance when they ride in races against professional jockeys. Some races are restricted to apprentices-only.

At the post
The point at which horses gather immediately before the start of a race.

Auction maiden
For two-year-olds sold at public auction as yearlings or two-year-olds, for a price not exceeding a specified figure.