Don't get bamboozled on a day at the races - use our A-Z jargon buster to help you understand the lingo.
Presenting the letter C . . .
Carpet
The tic-tac term for 3-1. Double carpet is 33-1.

Cast
A horse is cast when it lies down in its stable in such a way that it is too close to the wall, and there is a danger that it may not be able to get up without injury. A horse afflicted in this way is said to be cast in its box.

Champion apprentice
Apprentice jockey with the greatest number of wins in a season.

Champion conditional
Apprentice jockey with the greatest number of wins in a jumps season.

Champion National Hunt jockey
Jockey with the greatest number of National Hunt wins in a season.

Champion owner
Owner whose horses have won the most prize-money in a season.

Champion sire
The stallion who has sired horses earning the most prize-money in a season. Sometimes calculated in terms of number of wins.
Champion trainer
Trainer whose horses havewon the most prize-money in a season.

Chaser
A horse that takes part in steeplechase races.

Checked
When a horse's run during a race is momentarily blocked by another horse or horses.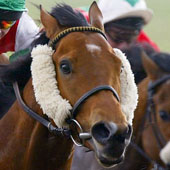 Cheekpieces: strips of sheepskin
PICTURE:
Getty Images
Cheekpieces
Strips of sheepskin that are attached to the side of a horse's bridle. They partially obscure a horse's rear vision, with the aim of getting the horse to concentrate on racing. Also known as French blinkers. Horses wearing cheekpieces are denoted on a racecard by a small p nextto the horse's weight.

Chestnut (horse colour)
Varies from light, washy yellow to dark liver colour, and in between are red, gold and liver shades. A chestnut never has black points, mane or tail.

Chute
Extension of racecourse, usually at the top of the home straight, to allow straight run from the start, e.g. for sprint races.
Claimer (jockey)
An apprentice Flat-race jockey.

Claimer (race)
Shorthand for claiming race.

Claiming race
A race in which each horse's weight is determined by the price placed on them by connections. The lower the claiming price, the lower the weight. Horses can be 'claimed' (bought) by other owners/trainers for the specified price after the race.

Classic
Historic major race for three-year-olds on the Flat. In Britain the five Classics are (in order of running through the year) the 2,000 Guineas, the 1,000 Guineas, the Oaks, the Derby and the St Leger - most European countries have their own versions of these Classics. In the United States, there are three Classic races for male horses - the Kentucky Derby, Preakness Stakes and the Belmont Stakes (these races comprise the American Triple Crown) - and the Coaching Club American Oaks for fillies. A Classic horse is one that is being aimed at one of these races or is regarded as having the potential to compete at that level.

Clerk of the course
Racecourse official responsible for the overall management of a racecourse, including the preparation of the racing surface.

Clerk of the scales
Racecourse official whose chief duty is to weigh the riders before and after a race to ensure proper weight is carried.

Cockle
The tic-tac term for 10-1.

Co-favourite
A horse that shares its position at the head of the betting market with at least two other horses.

Collateral form
When two horses, A and B, have run on separate occasions against a third horse, C, the form of A and B on a line through C is known as collateral form.
Colours: silks and cap worn in race
PICTURE:
Edward Whitaker (racingpost.com/photos)
Colours
Jacket ('silks') and cap worn by jockey to identify the owner of a racehorse. Each owner has a registered set of colours, detailing the design to be used. The colours to be worn by each jockey are shown on racecards in the Racing Post and in most racecards on sale at the racecourse.
Colt
Ungelded male horse below five yearsof age.

Combination bet (accumulator)
A bet involving more than one horse with the winnings from each selection going on to the next horse. All selections must be successful to get a return. Combination bets must be placed with the same bookmaker.

Company
Class of horses in a race. Members of the field.

Conditional jockey
Apprentice jockey over jumps. A National Hunt jockey, under 26, who receives a weight allowance for inexperience until he has ridden a certain number of winners. A conditional jockey is apprenticed to a licensed trainer, usually by annual contract. Conditionals usually have a weight allowance when they ride in races against professional jockeys. Some races are restricted to conditionals-only.

Conditions race
A race in which horses are allotted extra weight according to factors including sex, age, type of race, whether they are a previous winner etc. This is a better-class race for horses just below Group or Listed level.

Conformation
A horse's build and general physical structure; the way he is put together.

Connections
People associated with a horse, such as the owner and trainer.

Coupled
Two or more horses that are regarded as a single entry for betting purposes, usually because they have the same owner.

Course specialist
A horse that is used to a track, and has either won or performed well at the track in previous races.

Covered up
Keeping a horse behind other runners to prevent it running too freely in the early stages of a race.

Covering
The mating of horses.

Cup races
The most important long-distance races on the Flat (a mile and three-quarters and more) e.g. the Gold Cup at Royal Ascot. A cup horse is one capable of running in such races.

Cut in the ground
A description of theground condition where the racing surface has been softened by rain.