Don't get bamboozled on a day at the races - use our A-Z jargon buster to help you understand the lingo.
Presenting the letter D . . .
Dam
A horse's mother.

Damsire (broodmare)
The sire of a broodmare; in human terms, the maternal grandfather of a horse.

Dark horse
A horse regarded as having potential but whose full capabilities have not been revealed.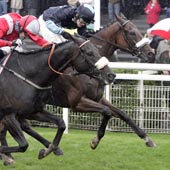 Dead-heat: a tie for first place
PICTURE:
John Grossick (racingpost.com/photos)
Dead-heat
A tie between two or more horses for first place, or for one of the other finishing positions. In the event of a dead-heat for first place, when a winning bet has been made, half the stake is applied to the selection at full odds and the other half is lost. If more than two horses dead-heat, the stake is proportioned accordingly.

Decimal odds
Used on the Tote and betting exchanges, instead of fractional odds. Decimal odds are expressed as a figure (in round or decimal terms) that represents the potential total winning return to the punter. So, 4 (or 4.0) in Tote or decimal odds is the same as the conventional 3-1, as it representsa potential total winning return of £4 to a £1 stake.

Declared (runner)
A horse confirmed to start in a race.

Disqualification
When a horse is demoted in the finishing order due to an infringement of the rules.

Distaff
Female. A distaff race is restricted to fillies/mares. The distaff side refers to a the female line of a horse's family.

Distance
The length of a race; b) the margin by which a horse has won or has been beaten (e.g. a horse might have a winning distance of three lengths); c) in jumps racing, if a horse is beaten a long way (by more than 30 lengths) it is said to have been beaten by a distance.

Distance, the
An unmarked point 240 yards from the winning post.

Double
Consists of one bet involving two selections in different events. Both selections must be successful to get a return, with the winnings from the first selection going on to the second selection. The return is calculated by multiplying the odds on the two selections: e.g. a £10 double on a 2-1 winner and a 7-1 winner pays £240 (£10 on a 2-1 winner = £30, then that £30 on a 7-1 winner = £240).

Double carpet
The tic-tac term for 33-1 (derivation: carpet is 3-1).
Draw: starting position in the stalls
PICTURE:
Channel 4 Racing
Draw
The starting positions in the stalls allotted to horses contesting races on the Flat. Stall numbers are drawn at random (except in a handful of top races that allow each horse's trainer/owner, having been randomly selected, to choose the stall number for their horse). A horse with a seemingly advantageous draw is said to be "well drawn". Stalls are used for Flat racing only.

Drifter
A horse whose odds get bigger due to a lack of support in the betting market. That horse is said to be "on the drift".

Driving
Strong urging by rider.

Drop in class/trip
A horse meeting a lower class of rival than he had been running against/running over a shorter distance than in his previous race.

Dual forecast
A bet where the aim is to select both the winner and runner-up in a race in either order.

Dwell/dwelt
To start slowly/started slowly.