Don't get bamboozled on a day at the races - use our A-Z jargon buster to help you understand the lingo.
Presenting the letter N . . .
Names
Horse names have to be registered with Weatherbys, racing's administrative body, and are subject to approval. Names cannot be longer than 18 characters (including spaces) and must not be the same, in spelling or pronunciation, as a name already registered. In addition, there is a list of 'protected' horse names that cannot be used - these include past winners of big races such as the Grand National and the Classics on the Flat.

Nap
The best bet of the day from a tipster.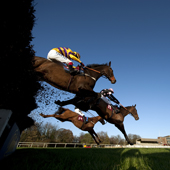 National Hunt: jump racing
PICTURE:
Edward Whitaker (racingpost.com/photos)
National Hunt
Racing over fences and hurdles; also known as jump racing.

Neves
The tic-tac term for7-1. Literally, 'seven' backwards.

Nomination
A breeding right to have a broodmare covered by a stallion at stud.

Non-trier
A horse prevented by the jockey from running to its full ability. Non-trying is a serious offence prohibited by the rules of racing, and jockeys (as well as the horse) can be banned from racing if they are found guilty of this offence, while the horse's trainer risks a fine and/or a ban.

No offers
When bookmakers are unwilling to offer a price on a horse.

Novice
A horse in the early stages of its career after it has won its first race.

Novice auction
A race for novices sold at public auctionas yearlings or two-year-olds for a price not exceeding a specified figure.

Novice stakes
A Flat race for two-year-olds or three-year-olds that have not won more than twice.

Nursery
A handicap on the Flat for two-year-old horses.