Relive the Grand National with our RPTV replay
Legendary McCains win National with Ballabriggs
Report: Aintree, Saturday
John Smith's Grand National Handicap Chase (Grade 3) 6yo+, 4m4f
DONALD MCCAIN followed in the footsteps of his legendary father Ginger, who trained three-time Grand National hero Red Rum, as his Ballabriggs (14-1) bravely won the National from the front.
Oscar Time (14-1) finished second, Don't Push It (9-1) third, State Of Play (28-1) fourth and Niche Market (16-1) fifth.

The outpouring of joy from Donald and Ginger as a tired but noble Ballabriggs went past the winning post told those watching all that the victory - and homecoming - meant to connections.
For Jason Maguire, who dismounted immediately after the line to give his mount a well-deserved breather, it was also a first Grand National triumph.
"I haven't a clue [how I feel] to be honest," said an exhausted Maguire, surrounded by well-wishers and bombarded by the noise of the crowd. "I don't know what I feel. I'm just overwhelmed. I'm sure it'll sink in."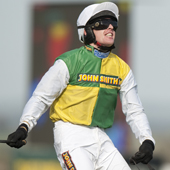 An elated Jason Maguire post-race
PICTURE:
Edward Whitaker
"He loved it. He half ran away from me for the first mile. He was just jumping from fence to fence. Turning in the first time I thought I'd just get him to the front and relax, keep getting breathers into him. Every jump you could just fill him up and he's got the trip because of that," Maguire added.
Ten minutes earlier, in front of a sell-out Aintree audience basking in the spring sunshine and a worldwide TV audience measured in the hundreds of millions, the 40 runners set off to the first at the customary cut-throat pace.
Ballabriggs was prominent from the first, avoiding much of the drama that went on behind. Falls led to two fences being skipped and two horses, the Willie Mullins-trained, Patrick Mullins-ridden Dooneys Gate and Paul Nicholls-trained, Nick Scholfield-ridden Ornais, suffering fatal injuries. There were no reports of any serious injury to their jockeys.
Racing prominently with Ballabriggs were Niche Market and Majestic Concorde, while 15-2 favourite The Midnight Club and last year's winner Don't Push It were held further back by their jockeys, Ruby Walsh and Tony McCoy.
Silver By Nature, well-backed beforehand and bidding to become the first Scottish winner in generations, was still further back and struggled to go the tough pace set by the enthusiastic front-runners.
Five out virtually all the well-backed horses in the race remained standing and running, although a clear division was opening between the leading group and those realistically running for minor honours.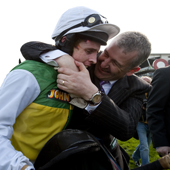 A delighted Donald McCain congratulates Jason Maguire
PICTURE:
Edward Whitaker
Ballabriggs, despite one mistake, remained prominent, accompanied by a trio whose riders were resplendent in orange silks.
Sam Waley-Cohen, the Gold Cup winner on Long Run, looked well placed to try to record a unique double by becoming the first amateur jockey towin both races in the same season.
Killyglen, who led for a long way in last year's race, again ran a big race and remained bang in contention at this stage, as did the Paul Nicholls-trained Niche Market, victory for whom would be a first for the champion trainer.
What A Friend, the Sir Alex Ferguson-owned runner, was pulled up three out, at which time Big Fella Thanks was fast moving into contention, while Don't Push It continued to travel promisingly for Tony McCoy.
Taking the last victory appeared in the grasp of Ballabriggs, Oscar Time, Big Fella Thanks and Don't Push It, with outside claims for Niche Market, and it was the first-named pair who went clear and settled down for a duel to the line.
Rounding the Elbow, half the famous Aintree run-in behind them, Ballabriggs had an advantage of just a length over Oscar Time.
Yet when it came to it Ballabriggs dug deep, channelling the spirit of Red Rum, and closed out the race, cheered to the rafters as he passed the line two and a quarter lengths clear.
Donald McCain and his father Ginger share a joke after Ballabriggs' success
PICTURE:
Edward Whitaker (racingpost.com/photos)
McCain said: "It's fantastic honestly. To have supporters like [owner] Mr Hemmings means everything. Aintree means as much to him as it does to us.
"We've always genuinely thought he might be an Aintree horse and you only need to see the way he's took to the place to see what he's done.
"Good horses are easy to train. Things have gone so smoothly all year. The prep at Kelso was grand. It's easy to say he's won a Grand National, but he's an absolute pleasure to do anything with."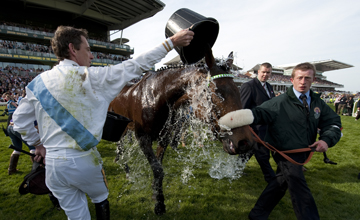 Ballabriggs is cooled down after his National exertions by Davy Russell
PICTURE:
Edward Whitaker (racingpost.com/photos)
McCain added that the winner finished the race unharmed, although very tired.
"It's hot, he's been up there all the way round. He's jumped his way there, travelled great. He's tired. He got tired at Cheltenham. He gives everything. He doesn't save anything. He doesn't keep anything back. But he's coming round now, he's just very tired."
Ginger McCain, who won the National four times, most recently in 2004 with Amberleigh House, said: "He's made a cracking job of it. He's missed Cheltenham and he's done it by the book."
An emotional Trevor Hemmings hugs Jason Maguire in elation
PICTURE:
John Grossick
McCain snr then joked: "If I ever meet his father I'm going to congratulate him and ask him where the brains come from."
Winning owner Trevor Hemmings, who also enjoyed Grand National success with Hedgehunter in 2005, praised the combination of horse and rider.
He said: "Absolute corker of a ride, superb ride, unbelievable. You cannot do anymore than have a horse as good as that and a jockey as good as that."
There was a sting in the tail for Maguire, however, as the rider received a five-day ban for excessive use of the whip.
Hemmings added: "Donald has done a brilliant job with Ballabriggs, and he clearly learned plenty from Ginger as they now have five National trophies on their mantlepiece.
"I was confused when Hedgehunter won, and I was not ready for it. Don't get me wrong, I loved every minute of it, but I only half got it. In contrast, today I lived every second of it, and though I have been kicked, pushed and trodden on with everyone wanting to congratulate me, I absolutely loved it."