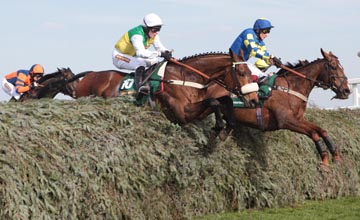 Ballabriggs (centre): stormed to Grand National success at Aintree in April
PICTURE:
John Grossick (racingpost.com/photos)
National course modified in bid to improve safety

AINTREE and the BHA have confirmed a number of changes will be made to the Grand National course in a bid to improve safety for horses and jockeys, as exclusively revealed in Monday's Racing Post newspaper.
One of the modifications, announced on Monday, will see the landing side of Becher's Brook reprofiled to reduce the current drop by four to five inches across the width of the fence. The height of the fence will remain unaltered.
The changes will come into force on December 3, 2011, when Aintree will stage its Becher Chase meeting.
Julian Thick, managing director of Aintree, said: "The safety and welfare of horses and riders is always our number one priority at Aintree. This is the latest stage in our continuous drive to make the Grand National Course as safe as possible."
Other changes include levelling of the landing side of the first fence, to protect horses from over-jumping at the start of the race,and a reduction in height of the fourth fence by two inches.
The height of the toe boards on all National fences will also be increased to 14 inches, in a bid to provide assistance to horses in determining the base of the fence upon approach.
Thick added: "It is not possible to completely eliminate risk in horseracing. However, I am confident the course changes we are announcing will, over time, have a positive impact.
"We will continue to monitor this carefully and make further improvements and modifications to the course if required as part of our ongoing commitment to safety."
The Grand National Review Group, who consulted animal welfare groups RSPCA and World Horse Welfare as well as many leading trainers and jockeys with their research, began their report in April following the deaths of Ornais and Dooneys Gate in last season's Grand National.
BBC viewers were angered by footage of Ornais, who fell at the fourth fence on the first circuit, covered by tarpaulin as the runners missed that fence the second time round.
David Muir, an equine consultant for the RSPCA, remains concerned about the some of the modifications.
He said: "Raising the landing zone at Becher's Brook is undoubtedly a positive step forward.
"However the RSPCA remains concerned about drop fences. We will continue to monitor the situation and see how horses cope on landing over the fence."