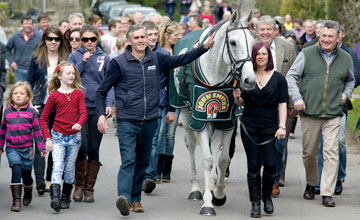 Grand National winner Neptune Collonges parades on Sunday morning
PICTURE:
getty images
Nicholls accepts more National changes likely
GRAND NATIONAL-winning trainer Paul Nicholls on Sunday acknowledged that more changes were likely be made to the Aintree contest following the deaths oftwo horses - including Gold Cup winner Synchronised - on Saturday.
Nicholls was speaking as 400 people descended on his stables to celebrate Neptune Collonges' last-gasp victory for owner John Hales.

Neptunes Collonges himself has been retired and Nicholls said: "John and I had made up our minds to retire him, win lose or draw, so to end on such a high is fantastic. And there's not a scratch on him, which is just what you want to see at the end of a Grand National. He's a wonderful horse and that was a wonderful performance."
The trainer had commiserated with Synchronised's trainer Jonjo O'Neill by telephone on Sunday morning.
He added: "It's awfully sad and nobody likes to see it, but horses are at higher risk when they areturned out at grass, as they kick each other and get into all sorts of trouble.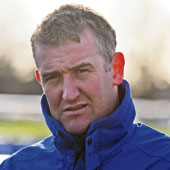 Donald McCain: "It's unfortunate"
PICTURE:
Martin Lynch
"People have their opinions, and though some of them are over the top there have obviously got to be changes. I don't know what to suggest, and it's not my job to tell them what to do, but we shouldn't rush, we should have a sensible discussion when the dust has settled.
"We've done lots already, and the BHA and Aintree are always looking to improve safety. We live in a different world now though, and anything more that we can do, we will."
Donald McCain, who won last year's National with Ballabriggs was more resistant to calls for further changes to the course at Aintree.
He said: "I don't think there needs to be changes. From what I saw of it I don't think either horse got hurt because of falls they had. I honestly think it's just unfortunate.
"I don't think you're ever going to be able to turn around with any race and say it's completely safe. It's very unfortunate and Aintree have done their best to do things right and I'm sure they will keep looking into things."